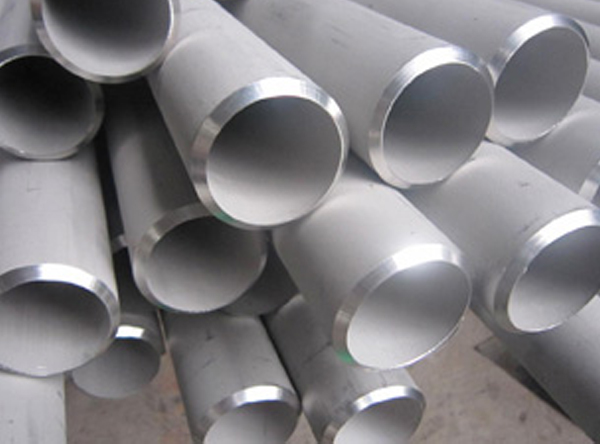 Send Enquiry
Super Duplex steel 2507 welded pipes used as a part of desalination plants whose ocean has a great deal of salt water. It is also used in marine applications and heat exchanger plants. Moreover, used in Oil and gas industry equipment, Offshore platforms, heat exchangers, process and service water systems, fire-fighting systems, injection and ballast water systems, Chemical process industries, heat exchangers, vessels, and piping, Desalination plants, high pressure RO-plant and seawater piping, Mechanical and structural components, high strength, corrosion-resistant parts, Power industry FGD systems, utility and industrial scrubber systems, absorber towers, ducting, and piping.
The main focus is to deliver the product on time with proper size, shaping, dimension, grade, finishing and perfection. We offer 100% customer maintenance rate as we have already build up the trust and name in the market in terms of growth, services, availability and quality. Super duplex steel UNS S32750 is more premium grade as compare to duplex 2205 stainless steel as it contains higher content of chrome to hold the structure of the pipe. All Super duplex steel pipe and tube are available in various size (½"NB – 24"NB) and standards such as (ASTM/ASME A/SA 789, 790).
Material & Grade :
Super Duplex Steel:
Grade: S32750 (1.4410)
Standards Specification:
| | |
| --- | --- |
| Standard | ASTM/ASME A/SA 789, 790 |
| Size | ½"Inch and 24"Inch |
| Schedule | SCH 10 – SCH XXS |
| Type | ERW / Welded / Fabricated |
| End | Plain End, Beveled End, Threaded. |
| Length | Single Random, Double Random & Cut Length. |
| Form | Round, Square, Rectangular, Hydraulic Etc. |
Chemical Composition
| C | Cr | Ni | Mo | N | Others |
| --- | --- | --- | --- | --- | --- |
| 0.020 | 25 | 7 | 4.0 | .27 | S=0.001 |
Mechanical Properties
| | |
| --- | --- |
| Ultimate Tensile Strength, ksi | 116 min. |
| 0.2% Offset Yield Strength 0.2%, ksi | 80 min. |
| 0.1% Offset Yield Strength 0.2%, ksi | 91 min. |
| Elongation in 2 inches, % | 15 min. |
| Hardness Rockwell C | 32 max. |
| Impact Energy, ft.-lbs. | 74 min. |
Product Features:
Welded Pipes manufacturing using Hot Extrusion facility up to 2"NB
Draw bench facility up to 8" NB
Solution Annealing Heat Treatment facility up to 8" NB
Various grades offered : Austenitic , Super Austenitic ,Duplex ,Super Duplex Stainless Steels
Stabilization Heat Treatment Facility for Stabilized Grades
Manufacturing Process :
The process commences with the formation of welded mother tube on the tube mill from imported and tested prime quality stainless steel strips. The latest TIG multi electrode welding technique is employed for superior weld quality and 100% Fusion, with argon purging, No filler metal added.
Product Usage & Application :
Useful in Paper & Pulp Companies
Useful in High Pressure Applications
Useful in Oil and Gas Industry
Useful in Chemical Refinery
Useful in Pipeline
Useful in High Temperature Application
Useful in Water Pipe Line
Useful in Nuclear Power Plants
Useful in Food Processing and Dairy Industries
Useful in Boiler & Heat Exchangers
Other grades also available :
Stainless Steel :
Grade: 304, 304L, 304H, 309, 309S, 310, 310S, 316, 316H, 316L , 317, 317L, 321, 321H, 347, 347H, 904L
Duplex Steel:
Grade: 2205
Nickel :
Grade: Nickel 200, Nickel 201
Inconel :
Grade: Inconel 600, Inconel 601, Inconel 625, Inconel 718
Titanium :
Grade: Gr1, Gr2, Gr3, Gr5, Gr7, Gr11
Monel :
Grade: Monel 400, Monel K500, Monel R-405
Hastalloy :
Grade: Hastalloy B2, Hastalloy B3, Hastalloy C22, Hastalloy C276, Hastalloy X
Incoloy :
Grade: Incoloy 800, Incoloy 800H, Incoloy 800HT

Packing :
Packing is quite important especially in a case of international shipments in which consignment pass through various channels to reach the ultimate destination, so we put special concern regarding packaging.
We pack our goods in numerous ways based on the products. We pack our products in multiple ways, such as,

Shrink-wrapped
Carton boxes
Wooden pallets
Wooden boxes
Wooden crates
Why Choose Us :
You can get the perfect material according to your requirement at the least possible price.
We also offer Reworks, FOB, CFR, CIF, and door to door delivery prices. We suggest you to do deal for shipping which will be quite economical.
The materials we provide are completely verifiable, right from raw material test certificate to the final dimensional statement.(Reports will show on requirement)
e guarantee to give a response within 24hours(usually in the same hour)
You can get stock alternatives, mill deliveries with minimizing manufacturing time.
We are fully dedicated to our customers. If it will not possible to meet your requirements after examining all options, we will not mislead you by making false promises which will create good customer relations.
Tests we carry out (including both Destructive and Non-Destructive) :
Positive material recognition
Mechanical examining like tensile, Elongation and reduction of area.
Large-scale test
Chemical examination-Spectro analysis
Firmness test
Pitting protection test
Small tests
X-ray test
Impact analysis
Eddy current examining
Hydrostatic analysis
Prompt test